Emerging Locations For Viable Real Estate Investment In Nigeria (2)
Last week we started a review of the areas we believe can guarantee the best yields for viable Real Estate investment in Nigeria. These locations are spread across – Lagos, Ogun, Anambra, Rivers, Kano, Abuja, Nasarawa, and Kaduna. These states, plus the FCT, offer the most compelling blend of population, economic ability (buying power), and base infrastructure needed to guarantee good returns on your investments.
In the previous edition, we explored EPE being "the new face of greater Lagos" and stated our conviction that property values in Epe and its immediate environs would rival many middle-income communities along the Lekki corridor within the next five years. One of the many responses asked – what about Ibeju-Lekki?
Aerial View of Lekki Free Trade Zone. Image Courtesy of LFZDC
It is our belief that within the next two years Ibeju-Lekki, particularly the Eleko axis, would become a beehive of industrial activities. Sadly, the limited infrastructure there does not augur well for a blended neighborhood and we recommend it for commercial/industrial investments, not residential purposes. We expect that Amen Estate and Alaro City would command good premiums due to their locations along the boundaries of what we foresee to become a massive industrial complex.
This week, we leave the peninsula and move our searchlight to other emerging locations in Lagos.
SATELLITE TOWN / BADAGRY: THE "FORGOTTEN PART" OF LAGOS
The ancient city of Badagry is a stark example of poor planning and lack of consistency in Government development policies. It is also proof that the best guarantee for development is private, not public investments.
Badagry was one of the first hubs of colonial incursion and it is puzzling that development has not turned it into a variant of Port-Harcourt. Badagry, for our purposes, will be deemed to include the Aduwo-Odofin, Festac, Satellite Town, and Ojoo Axis.
Ongoing Construction on Lagos-Badagry Expressway. Image Courtesy of Lagos Metropolitan Newspaper
Situated along the West African regional corridor and within reach of the Apapa port, this neighborhood should be a goldmine. Unfortunately, it suffers from highly degraded and dilapidated infrastructure. The ongoing overhaul of the Apapa-Oshodi expressway, the hopeful completion of the Lagos State Monorail project, the revitalized plans to overhaul the roads leading to OPIC-AGBARA estate (one of the largest industrial hubs in Africa) and the planned new port in Badagry are all indicative that this area is about to witness a renaissance.
Badagry itself is an untapped tourism magnet, but the current road infrastructure nightmare made many investors and developers shy away from it. The flip side: it remains highly affordable for now and when the planned infrastructure upgrade begins, the Amuwo-Odofin -Badagry axis will be a goldmine waiting to be tapped.
IKORODU – OLD WINE IN NEW BOTTLE
Ikorodu is the proof of what will soon happen to Badagry. Once abandoned and treated like the poor old uncle to Ketu-Alapere and Ikeja, Ikorodu is, arguably, the fastest-growing suburb of the Lagos "megacity" which can be attributed to its status as a thoroughfare linking nearby Ogun State and Epe to the rest of core mainland Lagos. Located to the northeast along the Lagos Lagoon, it shares boundaries with Ogun State.
Ikorodu Ferry Terminal. Image Courtesy of Cityscape Planning Services
Ikorodu's infrastructure has enjoyed massive upgrades with enhanced accessibility using mass transit buses or ferry services. The population of Ikorodu has witnessed significant upsurge, with the increasing influx of people owing to lower prices of land and buildings. The proposed 4th mainland bridge will transform Ikorodu to a clear competition for the middle-income communities on the now-saturated Lekki Peninsula.
OWORONSHOKI – THE PRINCESS IN-WAITING
Oworonshoki is another neighborhood, like Badagry, that has been ignored or forgotten. Like the ugly duckling being turned into a Princess, Oworonshoki, which is a highly under-developed suburb in Lagos State, is located beside the Third Mainland Bridge/Oworonshoki Highway and shares proximity to Gbagada, Ikeja GRA, Ilupeju, Maryland, Ajao Estate and Ogudu. A cursory check on property prices in those areas will tell you clearly of the high prospects for Oworonshoki.
The Oworonshoki Ruling Family, in conjunction with Lagos State Government and with the active participation of private developers such as our Octo5 Holdings, intends to trigger an extensive community redevelopment project for Oworonshoki.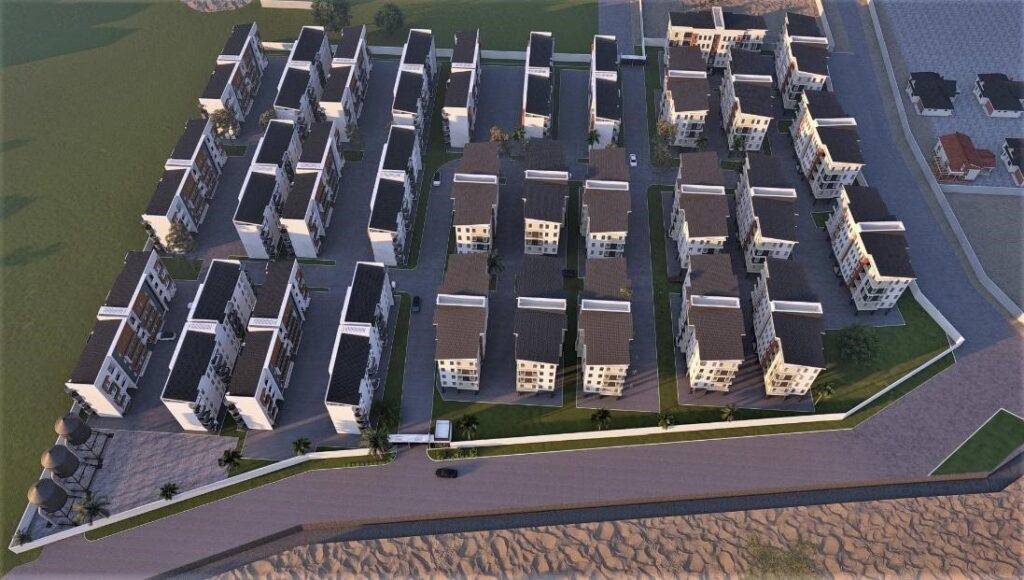 3D Models of Kingfisher Estates Oworonshoki being developed by Octo5 Holdings
There are other neighborhoods with high prospects in Lagos, but these are our top picks for getting the highest returns if you have patient capital.
Next week, we will travel to Ogun State to explore the latent real estate opportunities in the Gateway State.
Stay Safe
OCTO5 RESEARCH TEAM